Design Ideas for Small Kitchen- How to Enhance Space and Storage?
Not everyone can afford to have a large and open kitchen. It doesn't matter if you live in a cottage, a compact apartment, or an awkward galley-style space. Several small kitchen design ideas will be helpful for you to have a stylish and practical kitchen area in your house. Following are some practical storage and space-enhancing tricks that will be useful for more working space in the kitchen:

● Kitchen Islands- The Baker Table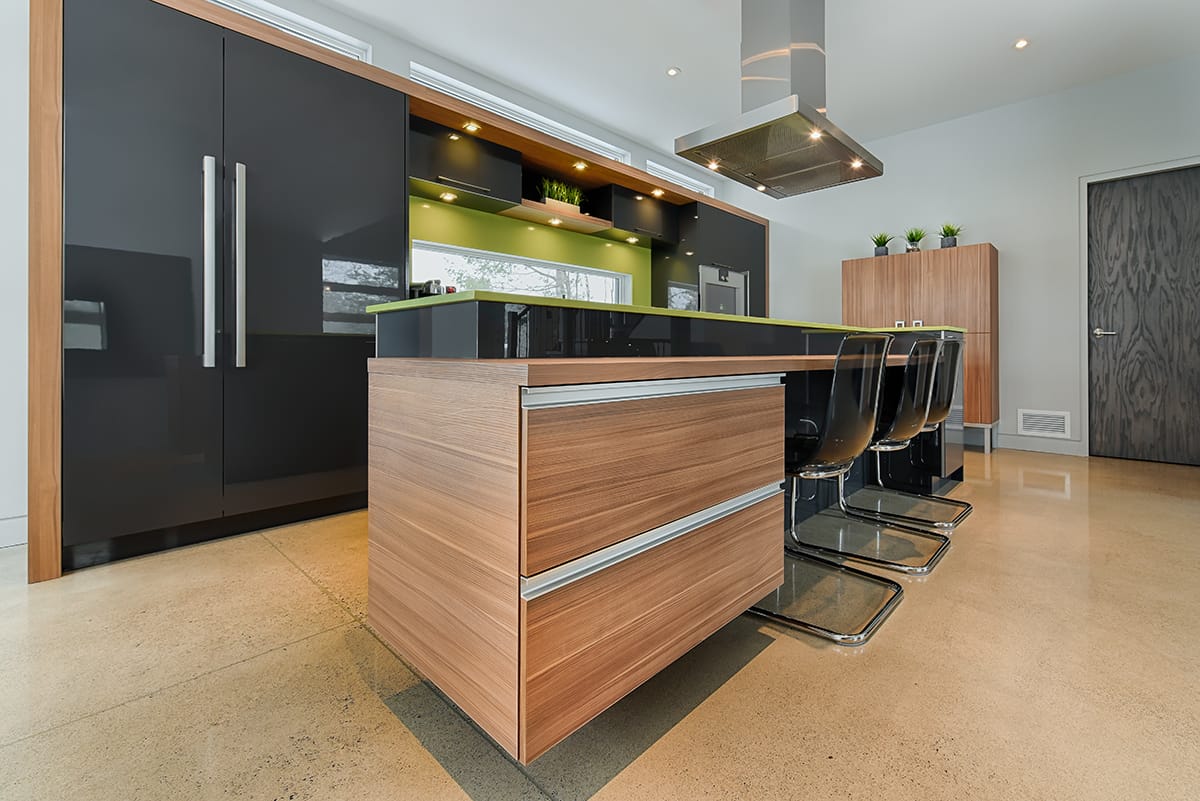 Kitchen islands are often designed according to the size of the room. If you have a smaller kitchen, having a multifunctional island in its middle is impossible. However, if you have designed a baker's table, it can be a perfect alternative. It will provide extra space to work, and you can also sit with your friends and family without making it look crowded.
● Pull-out Ladder and a Slim Pantry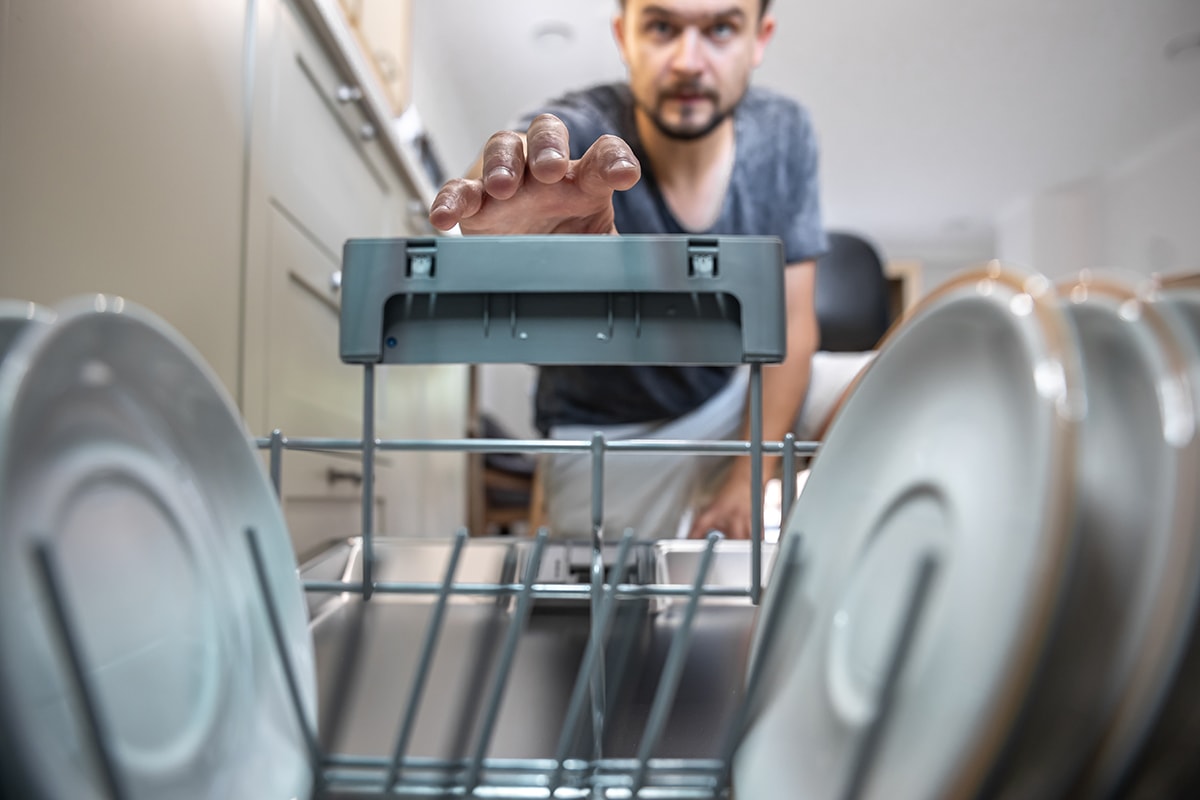 If you have a compact kitchen, a pull-out ladder and a slim pantry are two ways to enhance the space and storage of your small kitchen. Every inch matters in a small kitchen, from rood to the depth of the cabinet. With the bespoke nature of our designs, you can have deep cabinets, pull-out drawers, or a cage structure for a multilayered storage system that will be discrete yet effective. Avoid installing wall cabinets in a small kitchen. Having wall cabinets will make your kitchen look overcrowded and won't leave you with much space. According to Tom Howley designer Sophie Hartey, if you have installed a cabinet at one side of the wall and left the other empty, it will create an illusion of space.
● Space-Saving Drawers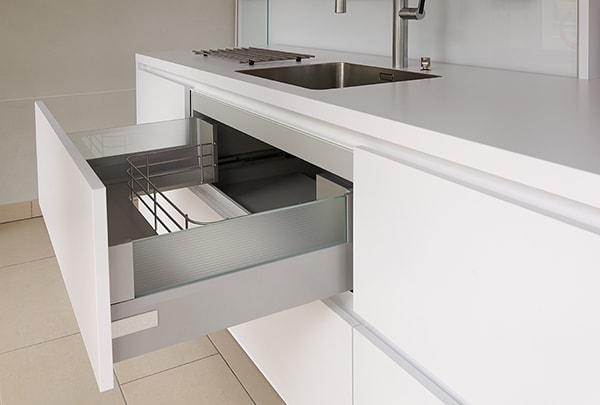 Drawers can be crucial in maximizing storage space in a small kitchen, providing ample room for efficient organization. You can customize these drawers as per your requirements. After installing these, you can easily access utensils without repeatedly opening the cupboards. You can install deep drawers for storing pans and pots, and then there are clever put-pull drawers that reveal two drawers in one. There are drawers with charging spots for storing electronics and other technical equipment. Moreover, in bespoke drawers, you can have knife blocks, typically covering all your needs to keep all utensils. Our drawers are made from solid wood, handcrafted with dovetail joints.
● Intelligent Internal Storage
With the bespoke internal design, you can keep enhanced storage for your kitchen and keep it clutter-free. If you have enough space, you can do multiple tasks without messing things up or getting intercepted by the items placed around you. Intelligent pull-out cornet units installed near the cooking and prep area can give you valuable space. Installing integrating modular bins can also make your kitchen look streamlined and organized.
● Compact Appliances
When designing your smaller kitchen, consider the size of the appliances you install. You don't necessarily have to install significant devices, as several compact machines are available that are just as effective as the big ones. According to the design director Tom Howley, installing build-under-draw fridges and dishwashers is a good idea. Moreover, having ovens with doors that can slip under the oven can save space too. Wine connoisseurs built under wine temperature regulators can also look sleek and save a lot of space.
Consider installing an all-in-one Quooker tap cleaning to save space for bulky appliances. You can also integrate the hob with the vented extractions to achieve more space in a small kitchen. A space-enhancing mirror splashback will also come in handy to have more space.
● Kitchen Nooks
The kitchens of every home need to be designed as per modern requirements. Every inch of the kitchen needs to serve its particular function and should be designed per your lifestyle. You don't need space for cooking, eating, and other entertainment purposes only; you also need space for ventilation and cleaning. If you have a smaller kitchen, you can have a cosy window nook or a built-in bench with storage space underneath it. You can also solve the problem of not having enough space to place a dining table by setting up a small breakfast nook with bespoke seats and a space-savvy round table.
● Kitchen Layout with Perfect Spacing
While designing your kitchen, you should consider the walking space and working triangle. Place your hob, sink, and refrigerator at an equal distance from each other. If your working area is optimized, you can have everything of need at arm's length to have enough room for movement and don't have to move around much. If you have a galley kitchen, the best option is to place the sink opposite the cooker, allowing more space. Don't install too many cabinets in a U-shaped kitchen. If you do so, your kitchen will look more enclosed. Without the cupboards, you might feel out of storage, but having a workspace is also essential. Moreover, use corners to your advantage by installing pull-over solutions and only install cabinets on one side of the wall and leave the opposite side empty.
● Lighting Ideas
To have a bright and open feel in your kitchen, utilize natural lighting to the maximum and use creative lighting solutions. Installing layer lighting will give you adequate illumination throughout different times of the day. The ambient, task, and accent are three main types of lighting. Install task lighting under cupboard LEDs, and perfectly installed pedants will make your kitchen look more attractive. Installing dinner switches is also a good idea to have a more attractive mood while dining.
● Glass Cabinets
Glass cabinets can not only look beautiful, but they will also spread the lighting to the corners that are usually dark. These cabinets also make it easier to access utensils as you can see the things you want to pick and the space at your disposal for storing more items.
According to our designer Emily Rumble, you can open your kitchen by installing a combination of closed and open wall cabinets. You don't have to worry about making the cupboard tidy; you can use reeded glass to blur the view of items placed inside.
● Mirrored Splashbacks
Installing mirrored splashbacks and antique mirrored tiles can add a touch of charm and beauty to your kitchen. If you have little natural light in your kitchen, these tiles can spread the lighting around the kitchen to create the vibe of having more space.
● Colour Schemes
According to our designer Suzie Francis, you don't have to choose the white colour. Lighter colours are very effective in a smaller kitchen, especially when you have installed reflecting worktops which will reflect these colours to create more lighting. You can also use other neutral colours, which will last longer and give you the feel of having a spacious kitchen.
You can enhance the lighting of the kitchen by applying softer neutral colours. To have a lofty feel around the kitchen, use a single paint throughout the kitchen area and use the base for having an additional shade. If you want to highlight certain parts of the kitchen, you can use secondary colours. A beautiful and straightforward bespoke neutral colour is available with us, which you can apply in your kitchen.
● Kitchen Surfaces
Quartz, such as Silestone or Caesarstone, is more beneficial than natural stones as they come in different colour schemes and are more durable. Using quartz in a smaller kitchen is more effective as you can feel a more spacy environment. You can have a seamless look around your kitchen by installing artificial quartz with a more consistent appearance.
You can visit our gallery to have more ideas on designing small kitchens. In our gallery, you will see fantastic small kitchen designs and more ideas on increasing the space and storage in your kitchen. You can also discuss your ideas with our experienced designer.