An extension can be costly, so we've put together a guide to help you save money. Here, you can find out about the cost involved, as well as some opportunities for saving.
Instead of moving house, house extensions provide a cost-effective and appealing option—be inspired by our list of suggestions to get your project off the ground.
House extensions are a great answer for households that are in need of a room. Whether you're not quite ready to relocate entirely but require additional space to sustain you through the next few years, or if you want to maximise the potential of your home forever, you will find the appropriate resources here.
One of the best things about a house extension is that it comes with choices. Whether you want an orangery or an economical rear home extension, there are numerous paths to take to achieve your objectives and make the most of your budget. Whether you are on a limited budget or not, take a look at our budgeting, planning, and designing advice to extend your house. Keep scrolling to see what you may accomplish in your home -whether you want to refine our list by price category or not.
We have a number of cost-effective strategies for expanding your house, even if your budget is $30,000, $50,000, or something in-between. Whether you have much more to spend or not, we can show you how to make your house extension work for your family's needs and your financial situation. Even if you have a lot more money, we can demonstrate how to improve the value of your house by expanding it.
Before you make plans—whether it's a rear addition to a bungalow, a single-story addition to a 1930s semi, a loft extension on a terraced house, or a large double-story extension—this feature will give you an idea of what might be possible with the money you have.
Our guide on how to cut the cost of an extension provides an overview of the costs involved and where savings might be made along the way.
A house extension plan for a budget between £20,000 and £30,000.
Budgetary extension options are available, but you must take both your budget and your requirements into account. These are budget house extensions between £20,000 and £30,000:
A simple room-in-roof loft conversion is
What's one of the best ways to enhance the value of your home? If you live in a terraced house, a loft conversion would cost around £1,000 per m2. This would result in a new room measuring 22 to 28m2. This would be sufficient space for a double bedroom extension with a small shower stall.
It is possible that a loft conversion project would be eligible for permitted development rights, meaning that it would not require planning permission, but the work would still have to comply with building regulations. For more information about loft conversion costs and other related issues, please see our guide. A building contractor or specialist design-and-build loft company would be the ideal choice for such a project.
In addition to the garage above the garage is two stories high.
Building an extension over an existing garage is one option for house extensions costing between £20,000 and £30,000. It is cheaper than constructing a new ground-level extension, provided the existing foundation can support the load (an engineer or surveyor can tell you).
Besides the necessary designer and contractor, you will also require planning permission from your local planning department, which will cost £172 per application. Because no garden space is sacrificed, an extension of 17 m² above a typical attached single garage would cost £900 to £1,500 per m². Building regulations, of course, would be enforced.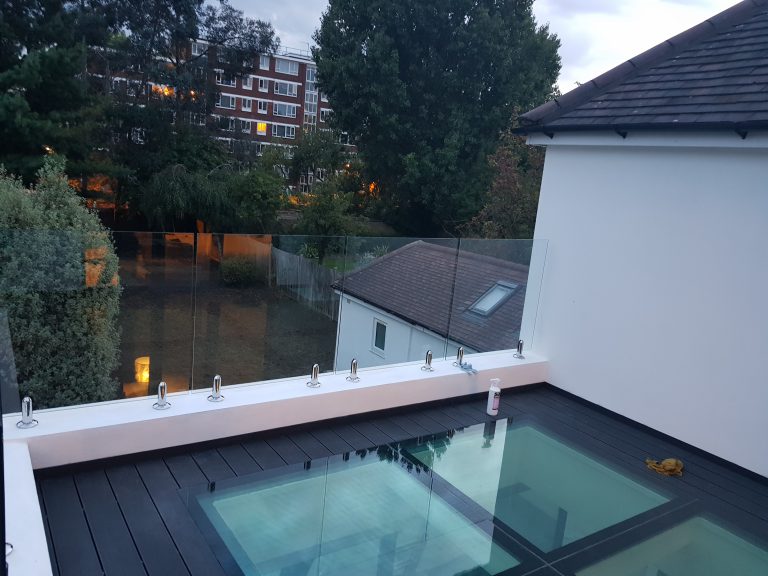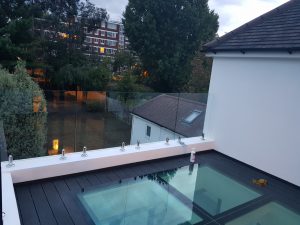 An integral garage can be converted into three bedrooms.
The garage has been converted into a living area and linked to the main house to create an open, spacious kitchen, living, and dining area. View more photographs of this space in our garage conversion ideas collection. Stephen Graver, architect.
Rather than creating the extension you desire, if you don't have the budget, you can redesign the space you currently have to suit your needs.
You may want to turn your garage into a living space if you don't use it much and parking space is not limited where you live.
The cost can range from £5,000 to £7,000 (depending on specifications); that is, around £1,000 to £1,250 per square metre – if the walls and floor are stable, the roof is watertight, and the ceiling is tall enough to leave around 2.2m to 2.4m of headroom after building up the floor by 15cm over external ground level.
Design fees for a garage conversion range from £1,200 to £2,500, plus £300 to £400 for a structural engineer. A typical single garage conversion (18 square metres) would cost around £17,100 to £23,900 plus VAT, depending on specifications.
If the structure is not part of the house and needs structural repairs, demolishing and replacing it may be more economical.
Our comprehensive guide covers everything you need to know about garage conversions, from planning to design.
A single-storey side or back extension can be built.
The scullery and coal bunker that Anne and Jim Gilchrist previously occupied have been replaced by Crichton Wood Architects' contemporary sun room. The couple's house is integrated with the resulting architectural space, which they cherish. This choice would have provided them with more space for their £22,000 if they had chosen a traditional timber-and-glass conservatory, but they liked the quality and uniqueness of the design.
Creating extra living space in your home is simple with a one-story rear extension. Open-plan living, dining, and cooking spaces are terrific for family gatherings, and future buyers particularly like them.
People with a spending range of £20,000 to £30,000 could build this sort of compact extension, measuring around 20m², for between £1,050 and £1,450 per square metre. In addition to extending an existing room, you could add a sizeable home office or utility room to your home.
Usually, permitted development rights can help reduce development costs, but always check. Building regulations will still be enforced. Remember to include professional fees and carefully estimate interior fit-out costs.
Turn your kitchen into a dining room by using a side return extension.
A side return extension can be a good way to turn an existing, narrow back room into a spacious, well-lit area if it is converted into a garden space.
An extension can be used to turn a small space into an open-plan kitchen-diner, providing garden-facing dining and seating or extra width to contribute to a more open-plan layout throughout the ground floor.
The current permitted development regime allows single-storey side extensions up to 4m high and half the width of the original house. Eaves height should not exceed 3m if the extension is within 2m of the boundary.
The cost of a building depends on the quality you desire, but you should expect to pay around £1,500 to £1,900 per square metre; a 2m x 5m side return extension might cost as little as £20,000 or as much as £20,000.
You can read our guide for information on kitchen extension costs.
An extension to a house with a greenhouse or orangery is 6.
You can purchase a conservatory or an orangerie in a variety of styles, from period to contemporary, and the less costly end of the market is accessible for someone with a budget of up to £30,000.
You can hire a conservatory or orangery design and build company for ease, but most people choose to do it themselves to save money.
A DIY conservatory can cost as little as £3,000, and it can be installed by you or your builder in a variety of standard designs. Your orangery or conservatory specialists can create custom designs for you, with mid-range styles starting at £10,000 and £15,000. Learn how to design a conservatory and how to add an orangery, as well as how to do it.
Having a garden room is 7.
A garden room is a wonderful option if you have no room for an extension on or near your home. You might use a room in your garden as a home office, cinema, or hobby space, for example. You may also use it as a home gym, a hobby room, or a children's playroom. This might be a good spot for outdoor dining when the weather is cooler or a sheltered area for enjoying your garden. For more information about garden rooms, please read our feature.
The expense of a garden room depends on its size, either modular or customised; the quality of the materials; the doors and windows; the level of insulation; and the interior and exterior finishes.
It can cost anywhere between £2,000 and £30,000 for a modular kit. It can cost anywhere between £800 and £1,600 per square metre for a fully bespoke structure. You can find out more about adding a garden outbuilding in our guide.
Turn a hallway into a living space by building a porch.
You can certainly extend your house's facade. A featureless frontage can be enhanced with a porch, which gives extra storage space as well as character. It is especially beneficial if your front door takes you directly into the living room rather than a hallway.
Think carefully about the design of the porch; it should be built in keeping with the style of the original architecture and in proportion to the size of the house.
Think carefully about the impact an enclosed porch could have on the natural light flowing through your existing front door when designing one. You may be able to increase the amount of daylight by designing it carefully.
A new front door and brick porch can cost anything from £3,000, depending on size and materials.
See how to build a porch in our practical guide.
The budget range between £30,000 and £50,000 for house extensions.
The budget allows you to create substantial house extensions, including loft conversions, garage conversions, basement conversions, large single-storey extensions, and even a modest two-storey extension. Here, we provide a range of example house extensions at a variety of costs from £30,000 to £50,000.
An additional, orangery-style rear extension of 9 meters in size
Extra living space and a small dining area were required for this Somerset home. A conservatory extension from David Salisbury was selected to create a light-filled room that would suit the property. It cost around £40,000.
A period-style extension, an orangery is built to match the architecture of the house and is 30m² in size. Planning and design information for an orangery can be found in our guide. In many cases, an orangery of 4m x 7m would be suitable for a dining or living room and would be covered by permitted development rights, thus avoiding the need for planning permission.
Bedroom and bathroom spaces are part of a loft conversion.
In addition to providing valuable extra living space, loft conversions provide one of the highest returns on investment when it comes to expanding, and they are one of the best house extensions you can do.
There is no need to seek planning permission for most loft conversions since they are covered by permitted development rights.
The price will differ depending on the size, but you should expect to pay between £30,000 and £50,000 for this type of house extension. A typical rear dormer conversion on a mid-terrace house, for example, would cost around £35,000. Small firms usually charge 10 to 15% less than big firms. Our guide provides information on planning and designing a loft conversion.
You want to expand your garage into a spacious living area.
An attached double garage measuring 28m² could be turned into extra living space at a basic cost of £850 to £1,050 per m². By removing the partition wall and replacing it with an RSJ, adding around £5,000 to the cost, this space could be integrated into the existing house.
The cost of new units must also be around £5,000 upwards if the space were to become a new kitchen, depending on the supplier chosen. Your permitted development rights mean that a garage conversion typically requires no planning permission; however, building regulations must be adhered to because it is a material change of use. We provide lots of garage conversion concepts in our article.
An extra bedroom is one of the most popular uses for a converted cellar.
An existing cellar measuring around 35m² could be converted into an additional living room or home office at a cost of around £850-£1,050 per m², including damp proofing (a tanking membrane) and insulation.
It would cost an additional £4,000-£5,000 to add a new lightwell and window. Cellar conversions are covered by permitted development rights, but, like everything else, this is a substantial switch in use. For information on specialist cellar-conversion firms, look at basements.org.uk. Our article gives more details about basement conversions.
To expand a kitchen, a side return extension is 13.
A side return house extension is an excellent way to convert unused or underused backyard space into an open-plan kitchen-dining room, which is often the case with terraced houses. This type of extension is also an excellent opportunity to bring more light into a terraced home, which usually has large roof lights, glass panels, and French, bi-fold, or sliding doors to create a contemporary, bright home.
A budget of £1,050 to £1,450 per m² is suggested, but keep in mind that large areas of glass will dramatically increase the cost.
A small double-storey rear extension is what I want.
The Hut Architects team worked with IQ Glass to redesign a family home in London. The clients wanted a distinctive yet minimal expansion that would maximise light and space. A double-height box on one side draws light up the staircase, costing £36,000 for design and installation.
A budget of £1,050 to £1,450 per m² might be sufficient to construct a sizeable single-storey extension, 30m² to 40m².
An extension of about 4 metres might be built across the back of a typical semi or detached house, whether it has a flat or low-pitched sloping roof—a single-storey or side return extension, both of which are ideal for creating a large open-plan kitchen-diner.
A design with folding-sliding doors, glazed roof lanterns, and large floor-to-ceiling glazing units would cost £1,800 to £2,200 per square metre, so the size of the space would need to be reduced to around 23 square metres on the same budget.
An extensive two-storey house addition.
In order to create more space, this stone-built farmhouse in west Wales with an oak frame was commissioned by Arboreta Design-and-Build, a specialist in oak frame design and construction. The sunroom was located downstairs and the bedroom above were intended to capture the views. The design was sympathetic to the period style of the house, but lots of glazing was incorporated. Arboreta would charge around £35,000 for an identical oak-framed extension.
When designing a two-story addition on a limited budget, you can double the storage space by utilizing the foundation and roof (15). A two-storey extension on this budget could measure up to 30-40m2 (both floors). The kitchen would typically be extended to the rear of a home, creating a new bedroom.
A two-storey side extension is not covered by permitted development rights and requires planning permission – as well as building regulations.
A family-sized bungalow can be made by extending it.
Whether you want to connect two buildings—a garage conversion and an old household, for instance—or enlarge a bungalow, a glazed corridor can be an economical and successful method to do so. Whether you live in a contemporary or traditional home, a glazed walkway can be an excellent approach to dealing with issues with period properties or conservation areas. A listed building, for example, may not be able to connect with a structure in a conservation area, as it might not be appropriate or permitted.
An inventive and practical house extension design.
If you can do some of the work yourself, using basic materials is a great way to keep costs down. Designing a sedum roof for a green scissor truss timber roof that was built on-site using standard materials is not a good idea, though. It doesn't matter what you do, as long as you use simple materials.
Studio Mesh Architects Henry Smith and his brother Alec took on most of the construction work when extending a one-bedroom 19th-century dairy cottage into a two-bedroom 77-square-metre flat for £39,500.
Create a link to the garden by rearranging the layout.
An innovative house extension approach is to reconsider the overall floor plan and design. In the picture, Julia Little expanded her home by creating a bathroom and converting the ground floor into a dormer loft bedroom.
Prior to the renovations, the home was cold and dark at the back, she said. She has always enjoyed the garden, but there was no view of it from the house. The only bathroom was a drafty downstairs bathroom at the back of the house. I was considering leaving, but I cared too much about the street, the garden, and the house itself,' she said.
'I figured I would have to borrow to purchase another house, so I chose to invest the money in improving the house instead. Since there was no planning permission required, things proceeded quite rapidly.'
'The front bedroom has been transformed into a guest room, and the old bathroom has become my son's bedroom. The ground floor has not been altered in any way. The kitchen now occupies the space that the previous kitchen, lobby, and bathroom occupied. Family and guests are now able to stay in the house, in addition to my son. I can see the changing seasons in the garden from my window year-round, thanks to the large door that stays open in the summer and is closed in the winter.
A kitchen and bathroom were added to the house, for a cost of £43,000, by Intervention Architecture.
Learn how to connect your indoor and outdoor areas effectively.
House extension ideas for budgets between £50,000 and £90,000
More money would allow for larger scale additions, such as double-storey additions or unique custom builds to dramatically transform your home life. A large loft conversion, a kitchen extension, an eye-catching glazed extension, or a basement conversion might be just what you need. Here, we examine house extensions for every budget between £50,000 and £90,000:
An additional kitchen area with enough room for the lounge is what I want.
Ground-floor kitchen extensions can be the ideal way to enhance the whole house, by improving the lighting, improving the layout, and adding appliances that make life easier. The price range for this type of extension in many parts of the country is between £50,000 and £90,000, with the exception of London.
Create a lounging zone if you have the space, in addition to kitchen and dining areas, if you are doing house extensions. It's also a good idea to connect the new room to the garden using bi-fold, sliding, or French doors.
The amount you pay for services depends on the work you want to be done, but a new kitchen should cost between £17 and £200 per square metre.
Your bedroom count can be expanded through a large loft extension.
At this budget level, you could add two sizable bedrooms and a bathroom or one extravagant master suite with a dressing and shower room by extending the loft on a large semi-detached house and converting the existing roof space.
There are still substantial lofts that can be converted in England without the need for planning permission. Those that require the addition of a window facing the highway, however, do require permission. All work is subject to building regulations.
An additional structure can be added to extend the house.
More of this cottage annexe is seen.
An annexe is an independent structure that is connected to, but not part of, the main house. It is used frequently, not occasionally as a garden room would be. An annexe is usually a small structure on the land that gives the occupant (a friend or relative) the independence to live there. A self-contained bedroom, living room, bathroom, and kitchen are therefore present. An independent entrance is common.
A basic annexe will cost you around £1,500 to £1,900 per square metre, and an exceptional one will cost around £2,200 to £2,400 per square metre. Our article gives you all the information you need about building an annexe.
An additional storey at the back or sides can enhance the value of a house.
A standard two-storey side or back extension comes in at around £1,320 to £1,620 per square metre, so if you stay within this budget, you can potentially expand by at least 35 square metres, which would be adequate to include a large kitchen and living room extension on the ground floor, with two additional bedrooms and a bathroom overhead.
Your local authority should be approached for advice on building regulations before embarking on a large two-storey extension.
A large addition on the side return house and a garage is the best way to add space to a house.
A side return extension is a traditional approach to expanding a Victorian/Edwardian semi-detached or terraced house; some of these extensions extend straight out to the side, across the full width of the property, filling in the corridor alongside the kitchen; others extend sideways and outward; where space is available, side return extensions may even be used to create a second-story extension above the original kitchen, adding an additional bedroom.
Finding a balance between enhancing the internal space without sacrificing too much garden is the key to creating a successful side return extension. It's also important to ensure that the house doesn't become unbalanced, with a large living area downstairs but a few bedrooms upstairs. For this reason, a side return extension in conjunction with a loft extension may be a good option.
In this type of build, the original rear and side walls of the kitchen at the back of the house are opened up, and steel beams are inserted so that the new and old spaces become one. A downstairs cloakroom/utility room may also be added, as well as an inspection chamber for the existing drains, which will be diverted with a new chamber.
In England, extending a single storey to the boundary is likely to require planning permission. Building regs must be adhered to as usual.
An extension coated with glazing.
Among £50,000 and £90,000 extension budgets, you may like to think about a glass extension. This extension style can look impressive and can pair with any style of building, including traditional ones. It will cost £3,000 to £4,000 per square metre. A significant budget should be sufficient to cover a 15 to 20m² extension, which would be enough for a small dining or living room at the rear or side of a home. A specialised design-and-construct firm such as GlasSpace or IQ Glass may be the best option, given the demanding engineering involved. Building regulations will be managed; a small extension is unlikely to require planning permission.
An extensive basement conversion.
Even though a basement conversion is the most costly method of expanding, it might be the best alternative if the location is high-value and all other alternatives have been exhausted. Even if a large budget is assigned, a 15 to 20m² basement will probably cost about £3,000 to £4,000 per m² including light wells, so a home office or movie theatre will probably not be possible.
The Basement Information Centre can provide you with information on cellar conversions and basement extensions in general. Our guide provides more information on converting a basement.
A kitchen and bathroom were expanded.
A unique extension might be the answer to your space needs if you live in a terraced house in North East London and want a kitchen and toilet overlooking the garden. They utilised the limited space to the maximum by splitting the £90,000 extension diagonally with a storage wall, creating two angled rooms. The bathroom and kitchen are on the opposite side, which has a circular entry. Prokol polyuria, a spray-on coating developed for oil platforms, was used to finish the job.